One of the tasks I have undertaken in regards to the WW2 Middle Eastern project is to research the composition of the Turkish armed forces during the Second World War. As there does not appear to be an Osprey Men at Arms title devoted to the subject (and yes, that was said with tongue firmly in cheek!) it has involved a lot of 'Google-Fu' and looking through various obscure websites.
Essentially the Turkish armed forces were undermanned, under equipped, under trained and probably in worse shape than during the first world war. Shortages of equipment was rife and at one time no less than three helmet types were in use - 1916 Stalhelm, British and the French 'Adrian' - albeit fairly sparsely, with the British types being reserved for the artillery crews. The army used a bewildering variety of equipment and the air force was my particular favourite because at one time you had MS 406s, Huricanes, FW190 and Spitfires (5s and 9s) serving alongside each other.
Clearly from a wargames perspective this degree of equipment variety makes for a great set up with plenty of choice but the infantry element presents a few problems. At the time of writing nobody, even Irregular Miniatures, to the best of my knowledge, produces Turkish infantry figures for World War 2. Hardly surprising given their neutrality for most of the war (they actually declared war on the Axis in 1945 but this was a diplomatic gesture only and so no Turkish troops were engaged in action during the war). A potential solution though, has emerged and although I suspect he will take no credit for this, Bob Cordery kind of pointed me in what may be a suitable direction.
1930s 20mm Plastic Chinese Infantry produced by Caesar Miniatures.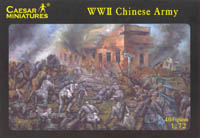 No, I didn't see that one coming either!
The above box of figures just happened to be lurking on one of the trade stands, along with various early 20th century Cossack types (again, very useful) and Bob just happened to be taking a look when my eye caught this set. I was intrigued as the headgear looked a pretty close match to the Turkish infantry depicted above, even down to the leggings used. I took a look at the
Plastic Soldier Review
for the set and was very impressed as the figures have just the right amount of 'motleyness' about them for the impoverished Turkish army of the period.
Of the figures themselves 12 out of the 40 in the set would not be readily usable as 8 are wielding rather viscious looking swords and 4 have a Chinese coolie style straw hat hanging down their back. I was impressed and so this set is a strong contender for the Turkish infantry when I come to tackle them.
Although Bob strenuously denied any involvement in this I suspect that it may have been payback for the news I passed on to him of Irregular Miniatures working on a 15mm Chaco War range of figures....;-)